Will We Finally See an End to Supply Chain Issues in 2023?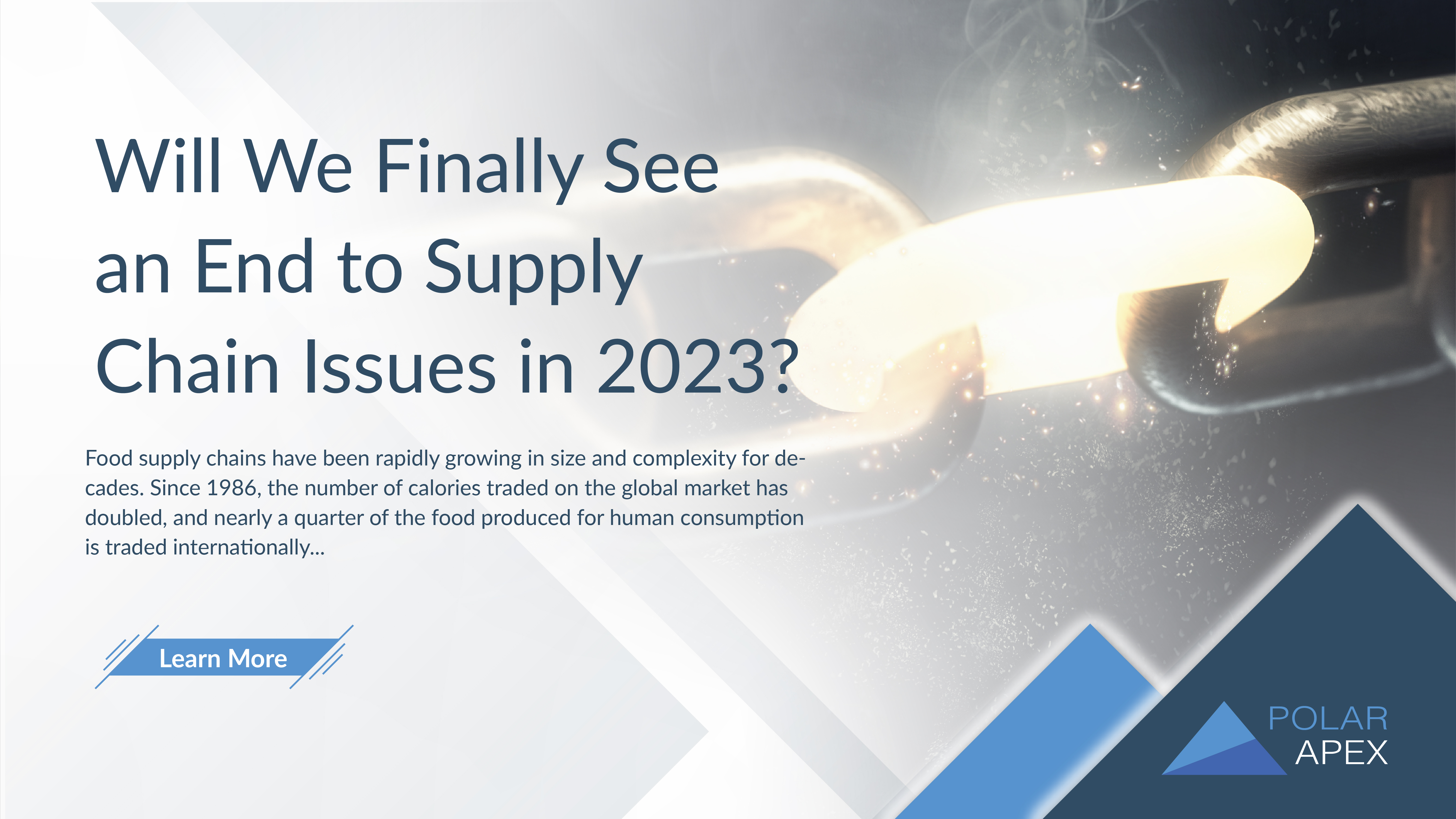 BUFFALO, N.Y. – November 21, 2022 -
Food supply chains have been rapidly growing in size and complexity for decades. Since 1986, the number of calories traded on the global market has doubled, and nearly a quarter of the food produced for human consumption is traded internationally. In the latter half of the twentieth century, global food transport increased at an exponential rate, outpacing food production itself, and the number of links in the global food trade network increased by 50%.
But these food supply chains were designed to be lean and efficient rather than resilient. The inter-connectivity and inter-dependence of economies within the global food network means that disturbances in any of the main food-producing nations presents the risk of a "shock" to the entire food supply chain.
The year 2020 brought the fragility of the global food supply chain to the forefront of American consciousness. Panic-buying and emergency shutdowns left store shelves empty in March 2020. And while that first shock was short-lived, food supply chain issues were not. That's because the Covid-19 pandemic merely exposed deeper issues within our global food supply chain that have yet to be addressed.
First came the shortages of beef and pork, as meat-processing plants faced closures and reduced capacities to slow the spread of the coronavirus. But even when stay-at-home orders were lifted, the supply chain issues seemed to get worse.
Congestion at ports, a container shortage, a packaging material shortage, and labor shortages meant that Americans have been consistently faced with shortages of everything from peanut butter and sriracha sauce to cat and dog food over the past two years. Food and beverage out-of-stock rates (at 14%) were double that of typical out-of-stock rates (at 7%).
Compounding these issues, any acute supply chain disruptions, like the closing of one baby formula manufacturing facility, are enough to push the whole supply chain into disarray, leading to devastating shortages for millions of American families. Even regular and predictable periods of peak demand have been too much for the supply chains to handle; there were shortages of turkeys before Thanksgiving, eggs before Easter, and chicken wings before the Super Bowl.
The lack of resiliency in the supply chain has also resulted in a huge increase in the price Americans pay for food. The escalation in the Russo-Ukrainian War triggered the largest increase in inflation in decades, as the loss of wheat, oil, and fertilizer exports from the region trickled through the supply chain. Similarly, both egg and chicken prices are currently at historic highs due to a bird flu in 2022 that resulted in a decrease in supply.
Fortunately, as a net food exporter, the United States is more likely to experience inflation and product shortages because of supply chain issues rather than nationwide food insecurity. But, for many countries around the world that rely exclusively on imports for their food staples, the situation is much more dire. The escalation of the Russo-Ukrainian War and extreme weather events, like the heatwave and drought that impacted China in summer 2022, have sent countries like Afghanistan, Sri Lanka, and Pakistan, among others, into crisis. The United Nations' Secretary-General António Guterres warned of a "raging food catastrophe" in 2023.
So, it appears that supply chain issues are here to stay, and the events of the past 3 years have merely brought the fragility of the global food supply chain into focus. But it doesn't have to be this way. Shorter, more diverse food chains are stronger than long, lean ones. Creating and supporting localized food supply chains will make our food system more resilient and sustainable. If you are sick of supply chain issues and would like to be a part of the food supply chain solution, please reach out to us right away.
About Polar Apex
Polar Apex is an exclusive VC fund that partners with industry and government leaders to tackle their greatest challenges and opportunities with new ventures.
Disclaimer
Although the material contained in this website was prepared based on information from public and private sources that Polar Apex, LLC believes to be reliable, no representation, warranty or undertaking, stated or implied, is given as to the accuracy of the information contained herein, and Polar Apex, LLC expressly disclaims any liability for the accuracy and completeness of information contained in this article.
This article is distributed for general informational and educational purposes only and is not intended to constitute legal, tax, accounting or investment advice. The information, opinions and views contained herein have not been tailored to the investment objectives of any one individual, are current only as of the date hereof and may be subject to change at any time without prior notice. Polar Ape, LLC does not have any obligation to provide revised opinions in the event of changed circumstances. All investment strategies and investments involve risk of loss. Nothing contained in this article should be construed as investment advice. Any reference to an investment's past or potential performance is not, and should not be construed as, a recommendation or as a guarantee of any specific outcome or profit.
Any ideas or strategies discussed herein should not be undertaken by any individual without prior consultation with a financial professional for the purpose of assessing whether the ideas or strategies that are discussed are suitable to you based on your own personal financial objectives, needs and risk tolerance. Polar Apex, LLC expressly disclaims any liability or loss incurred by any person who acts on the information, ideas or strategies discussed herein.
The information contained herein is not, and shall not constitute an offer to sell, a solicitation of an offer to buy or an offer to purchase any securities, nor should it be deemed to be an offer, or a solicitation of an offer, to purchase or sell any investment product or service.