Buffalo Has the Potential to Become the East Coast Innovation Hub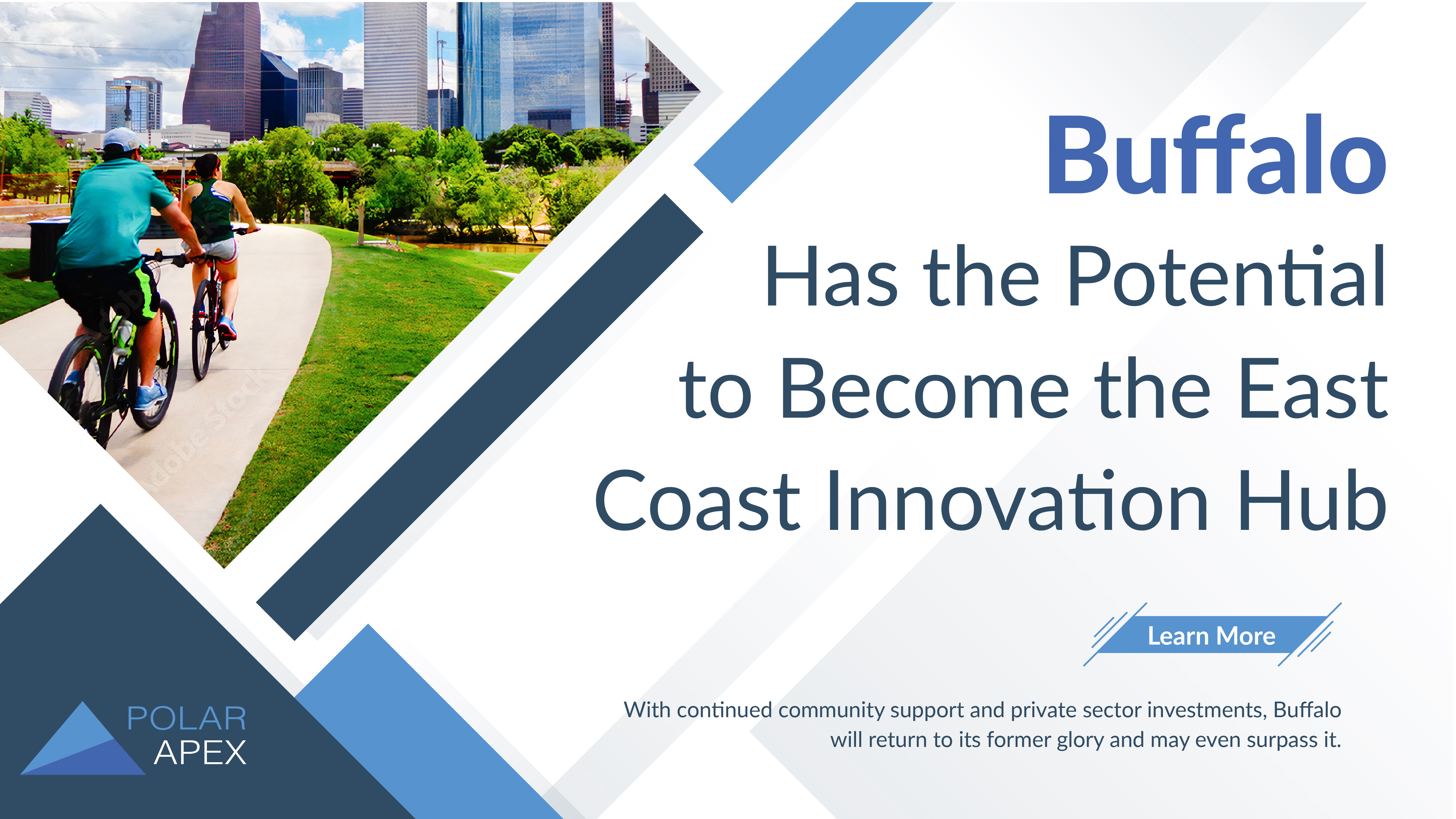 BUFFALO, N.Y. – October 24, 2022 -
As New York's second largest city, Buffalo has seen its fair share of ups and downs. It was once one of the most popular east coast destinations and the eighth largest city in the United States, with the highest rate of millionaires per capita. Buffalo was a place of technology, industry, and innovation. Being located near Niagara Falls, Buffalo was at the forefront of electricity and harnessing renewable energy. And as the western terminus of the Barge Canal, Buffalo's shipping and manufacturing industries boomed.
Unfortunately, Buffalo couldn't stay on top for ever. The Saint Lawrence Seaway and railroad transportation rendered the Barge Canal obsolete. World War II ended, resulting in decreased demand for steel and the closure of several manufacturing plants. The Lackawanna plant alone resulted in the loss of 7000 jobs. People had no choice but to relocate to other metropolitan areas, so the population declined throughout the latter half of the 20th century.
However, Buffalo in 2022 is almost unrecognizable from where it was only ten years ago, in large part due to Buffalo's affordable cost of living and the shift to remote work. Buffalo has become one of the top locations for millennials to live, recently ranking fifth on a list of most popular cities for millennials. It's especially attractive to freelancers and remote workers due to its location independence. Buffalo's population growth rate has recently increased to 6.5%, outperforming every other major city in upstate New York and ranking third only behind Columbus, Ohio, and Ann Arbor, Michigan.
But the low cost of living is only one of the many things attracting young, educated talent to Buffalo. The city itself is undergoing a transformation, with the revitalization of city neighborhoods, restoration of gorgeous architecture and natural landmarks, and investments in creating one-of-a-kind attractions near the waterfront and canal.
The culture here is changing as well. People in the community are invested in Buffalo's rebound and are working hard to restore the city to its former glory and status as an innovation hub. Entrepreneurship is on the rise in Buffalo's younger generations, and programs focused on young entrepreneurs are popping up in schools, universities, and other social programs throughout the city. TechBuffalo, a local nonprofit, is spearheading the WNY tech skills initiative, which connects people with the appropriate training and jobs to help Buffalo become an innovation hotspot.
In total, over $5.5 billion has been invested in Buffalo in the last few years, indicating that people believe in Buffalo's economic and cultural resurgence. The state of New York pledged $1 billion through the Buffalo Billion initiative, which awards funds to entrepreneurs through an annual competition. 43North, a Buffalo-based startup accelerator, invests $5 million annually in promising local startups, and promises winners of their annual competition a 1-million-dollar investment in exchange for relocating to Buffalo.
Buffalo has the potential to become a leading innovation hub on America's east coast. With continued community support and private sector investments, Buffalo will return to its former glory and may even surpass it. If you have any vacant land or are interested in investing in local co-working spaces, incubators, or other amenities that will continue to attract young talent, reach out to us so we can help Buffalo grow. Additionally, if you would like to invest in any of our WNY based portfolio companies, please reach out so you can make a difference.
About Polar Apex
Polar Apex is an exclusive VC fund that partners with industry and government leaders to tackle their greatest challenges and opportunities with new ventures.
Disclaimer
Although the material contained in this website was prepared based on information from public and private sources that Polar Apex, LLC believes to be reliable, no representation, warranty or undertaking, stated or implied, is given as to the accuracy of the information contained herein, and Polar Apex, LLC expressly disclaims any liability for the accuracy and completeness of information contained in this article.
This article is distributed for general informational and educational purposes only and is not intended to constitute legal, tax, accounting or investment advice. The information, opinions and views contained herein have not been tailored to the investment objectives of any one individual, are current only as of the date hereof and may be subject to change at any time without prior notice. Polar Ape, LLC does not have any obligation to provide revised opinions in the event of changed circumstances. All investment strategies and investments involve risk of loss. Nothing contained in this article should be construed as investment advice. Any reference to an investment's past or potential performance is not, and should not be construed as, a recommendation or as a guarantee of any specific outcome or profit.
Any ideas or strategies discussed herein should not be undertaken by any individual without prior consultation with a financial professional for the purpose of assessing whether the ideas or strategies that are discussed are suitable to you based on your own personal financial objectives, needs and risk tolerance. Polar Apex, LLC expressly disclaims any liability or loss incurred by any person who acts on the information, ideas or strategies discussed herein.
The information contained herein is not, and shall not constitute an offer to sell, a solicitation of an offer to buy or an offer to purchase any securities, nor should it be deemed to be an offer, or a solicitation of an offer, to purchase or sell any investment product or service.