Polar Apex Team Rapidly Expanding, Looking for Scientific Writer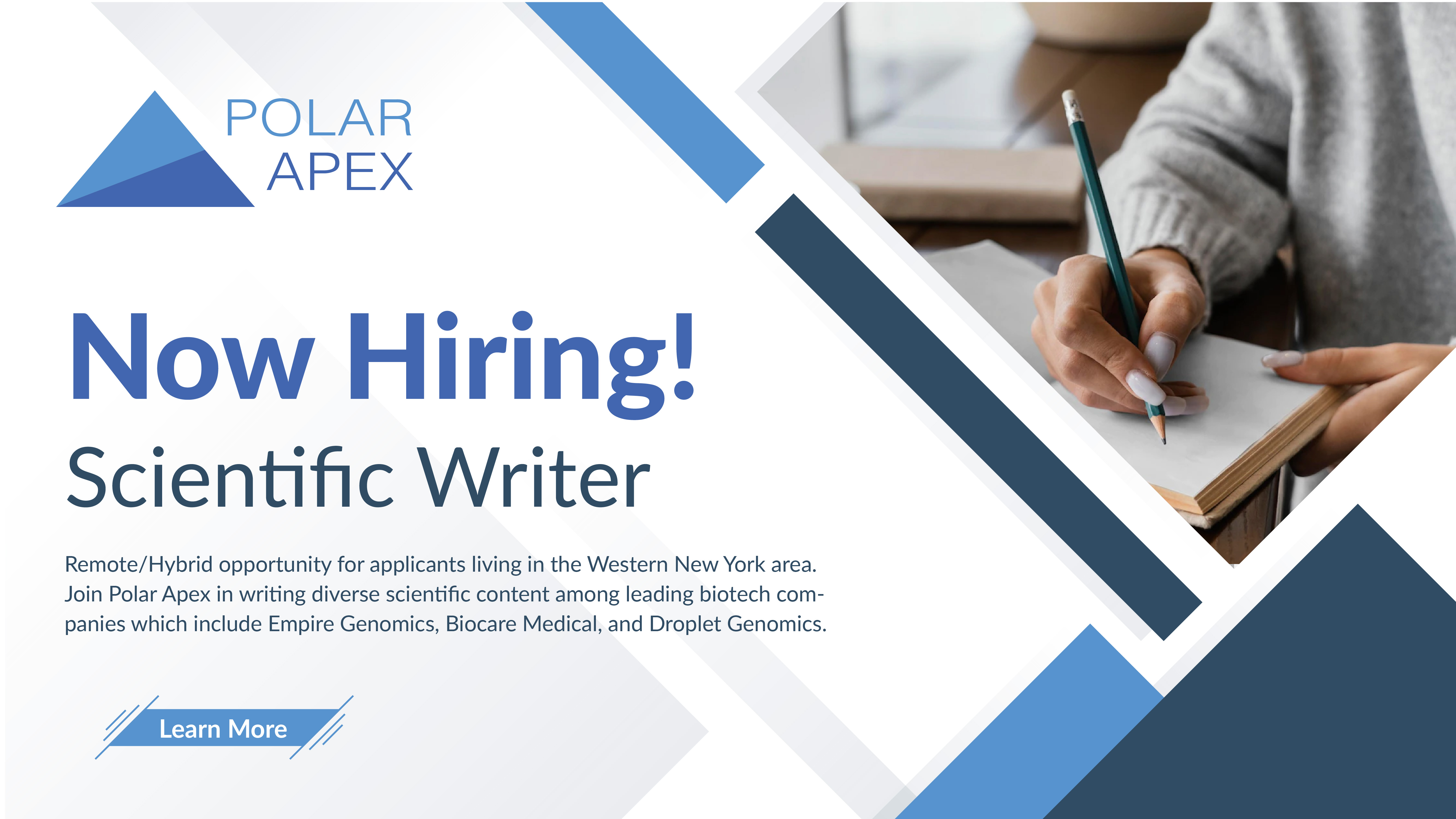 BUFFALO, N.Y. – December 14, 2022 -
Polar Apex is looking for Scientific Writer to produce a diverse range of scientific content that informs and inspires our target audience. The remote or hybrid position is only available to applicants living in the Western New York area.
Polar Apex is a New York-based venture capital fund that invests in groundbreaking biotechnology companies across the globe. We currently work with Empire Genomics, Biocare Medical, and Droplet Genomics, among other leading biotech companies. Our innovative marketing and advertising campaigns help nurture the success of companies in our portfolio. Part of this strategy is to ensure that scientists and researchers in this field can access the technologies in these companies to make tomorrow's big discoveries. Therefore, we are seeking to expand our team of scientific writers to meet the growing demand for scientific content.
Polar Apex employees describe working at the organization as great. You will be working with a team of self-motivated individuals who share a positive attitude and desire to provide solutions to real-world problems. Our culture and continuous growth opportunities make Polar Apex an employer of people willing to develop their careers and work in a fast-paced environment. Although you will be mostly writing scientific content, you will have the opportunity to put ideas forward to science experts and contribute knowledge to the life sciences field.
As the person who produces our written materials, you will be required to write content for laboratory heads, principal investigators, and other scientists and researchers around the world. You will conduct literature reviews, research the latest scientific breakthroughs, analyze scientific data, and present it in a clear, concise, and coherent manner. Every week, you will:
Research, write, and edit content for our biotechnology portfolio companies
Produce scientific articles for online and print publication according to the agreed style and strict deadlines
Identify primary scientific research articles of interest on Google Scholar and other peer-reviewed databases
Collaborate with our content team to produce and write science content for marketing and advertising campaigns
Participate in other content writing-related activities, including brainstorming sessions and company meetings
To be a successful Scientific Writer at Polar Apex, you will need to meet the following requirements:
A minimum bachelor's degree in biology or related fields in life science
A strong interest in science
Knowledgeable about scientific topics such as genomics, gene editing, digital pathology, and synthetic biology
Ability to understand complex ideas and think logically
Ability to work under pressure to deadlines
Strong written and oral communication skills
Understanding of standard computer programs
Flexibility, resilience, self-motivation, and persistence
If this job opportunity sounds like a perfect fit for you, please email your application to sam@polarapex.com with the headline "Scientific Writer Application". Selected applicants will be required to read a primary scientific article and write a paragraph abstract of the study before an invitation to an interview.
About Polar Apex
Polar Apex is an exclusive VC fund that partners with industry and government leaders to tackle their greatest challenges and opportunities with new ventures.
Disclaimer
Although the material contained in this website was prepared based on information from public and private sources that Polar Apex, LLC believes to be reliable, no representation, warranty or undertaking, stated or implied, is given as to the accuracy of the information contained herein, and Polar Apex, LLC expressly disclaims any liability for the accuracy and completeness of information contained in this article.
This article is distributed for general informational and educational purposes only and is not intended to constitute legal, tax, accounting or investment advice. The information, opinions and views contained herein have not been tailored to the investment objectives of any one individual, are current only as of the date hereof and may be subject to change at any time without prior notice. Polar Ape, LLC does not have any obligation to provide revised opinions in the event of changed circumstances. All investment strategies and investments involve risk of loss. Nothing contained in this article should be construed as investment advice. Any reference to an investment's past or potential performance is not, and should not be construed as, a recommendation or as a guarantee of any specific outcome or profit.
Any ideas or strategies discussed herein should not be undertaken by any individual without prior consultation with a financial professional for the purpose of assessing whether the ideas or strategies that are discussed are suitable to you based on your own personal financial objectives, needs and risk tolerance. Polar Apex, LLC expressly disclaims any liability or loss incurred by any person who acts on the information, ideas or strategies discussed herein.
The information contained herein is not, and shall not constitute an offer to sell, a solicitation of an offer to buy or an offer to purchase any securities, nor should it be deemed to be an offer, or a solicitation of an offer, to purchase or sell any investment product or service.