Buffalo's Push Towards Tourism Creates New Investment Opportunities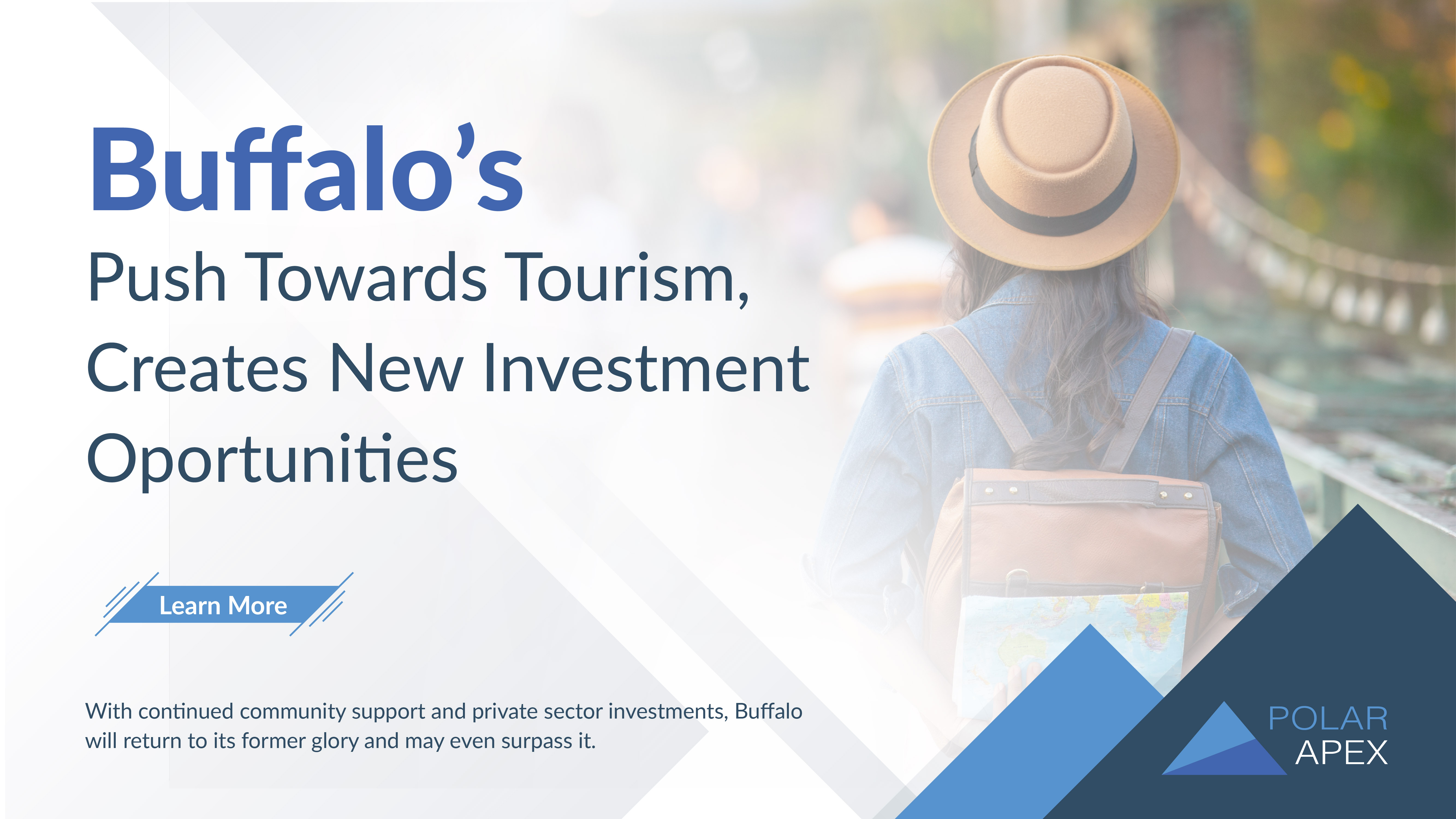 BUFFALO, N.Y. – November 7, 2022 -
What cities come to mind when you think of tourism? Vegas, Orlando, maybe New York City? The city of Buffalo, NY, probably doesn't cross your mind. But, in many people's eyes, Buffalo is quickly becoming the destination of choice. Buffalo was named one of America's favorite cities, a top ten food city, and one of the top places to visit by CNN and National Geographic in 2016.
According to Patrick Kaler, president and CEO of Visit Buffalo Niagara, Buffalo welcomes 8 million tourists every year. WNY tourism represents a $1.6 billion industry, with tourists pumping millions of dollars each year into our local economy. Over the last ten years, $900 million has been invested in infrastructure improvements, cultural assets, hotels, and large-scale projects, according to Kaler. Since 2016, the city has been transformed, and tourism has grown exponentially as a result.
Formerly vacant land or abandoned industrial zones are being transformed into one-of-a-kind attractions. Buffalo RiverWorks, a popular waterfront destination that was once a ghost town, now houses a banquet space, a concert venue, four bars, a full-service restaurant, and two hockey rinks. In the mood for some adventure? RiverWorks features a zipline and rock-climbing wall. Taking a family vacation? Kids and adults alike will enjoy the Buffal-O Ferris wheel and amusement rides.
And RiverWorks isn't the only place where investments have turned a "diamond in the rough" into a world-class tourist attraction. Hotel Henry is a stunning urban resort and conference center that resides in the 145-year-old Richardson Olmsted Campus building, a National Historic Landmark that was once a home for the mentally ill. The Richardson Olmstead Campus had been abandoned since the 1970s before its repurposing and restoration began in 2013. Today, it is an 88-room full-service hotel and hosts conferences for up to 500 attendees. The architecture is stunning, the grounds and gardens are amazing, and it's set within one of Buffalo's most vibrant urban neighborhoods, within only a few minutes' drive of downtown and Delaware Park.
Another notable architectural attraction is Buffalo's Darwin D. Martin House, a multi-structure residential complex designed by Frank Lloyd Wright. The Martin House is often considered to be one of Wright's greatest achievements, and Wright himself considered it his masterpiece. After a 20-year period, the house has been officially restored to its original 1900s look, becoming a major national attraction. Besides Chicago, Buffalo is the only American city with designs by Wright, Louis Sullivan, and Henry Hobson (H.H.) Richardson.
And the investments in Buffalo attractions keep on coming. In 2019, OnCore Golf announced a $30 million one-of-a-kind golf and hotel complex to be built on Kelly Island, along the Buffalo River. The facility will include a three-tiered golf driving range using a futuristic radar and camera system to deliver a unique gaming experience to golfers and non-golfers alike. They also plan to offer augmented- and mixed-reality activities, and are considering additional sports simulations including indoor surfing, skateboarding, and snowboarding alongside simulated baseball, basketball, hockey, and archery competitions.
Buffalo's tourism renaissance is just getting started. The city is unrecognizable compared to just a few years ago, and I don't see this trend stopping. Please contact us if you are interested in investing in Buffalo and making it the number one tourist destination in the United States.
About Polar Apex
Polar Apex is an exclusive VC fund that partners with industry and government leaders to tackle their greatest challenges and opportunities with new ventures.
Disclaimer
Although the material contained in this website was prepared based on information from public and private sources that Polar Apex, LLC believes to be reliable, no representation, warranty or undertaking, stated or implied, is given as to the accuracy of the information contained herein, and Polar Apex, LLC expressly disclaims any liability for the accuracy and completeness of information contained in this article.
This article is distributed for general informational and educational purposes only and is not intended to constitute legal, tax, accounting or investment advice. The information, opinions and views contained herein have not been tailored to the investment objectives of any one individual, are current only as of the date hereof and may be subject to change at any time without prior notice. Polar Ape, LLC does not have any obligation to provide revised opinions in the event of changed circumstances. All investment strategies and investments involve risk of loss. Nothing contained in this article should be construed as investment advice. Any reference to an investment's past or potential performance is not, and should not be construed as, a recommendation or as a guarantee of any specific outcome or profit.
Any ideas or strategies discussed herein should not be undertaken by any individual without prior consultation with a financial professional for the purpose of assessing whether the ideas or strategies that are discussed are suitable to you based on your own personal financial objectives, needs and risk tolerance. Polar Apex, LLC expressly disclaims any liability or loss incurred by any person who acts on the information, ideas or strategies discussed herein.
The information contained herein is not, and shall not constitute an offer to sell, a solicitation of an offer to buy or an offer to purchase any securities, nor should it be deemed to be an offer, or a solicitation of an offer, to purchase or sell any investment product or service.