Food Insecurity Is a Growing Issue in Western New York. Could Microgreens Be the Solution?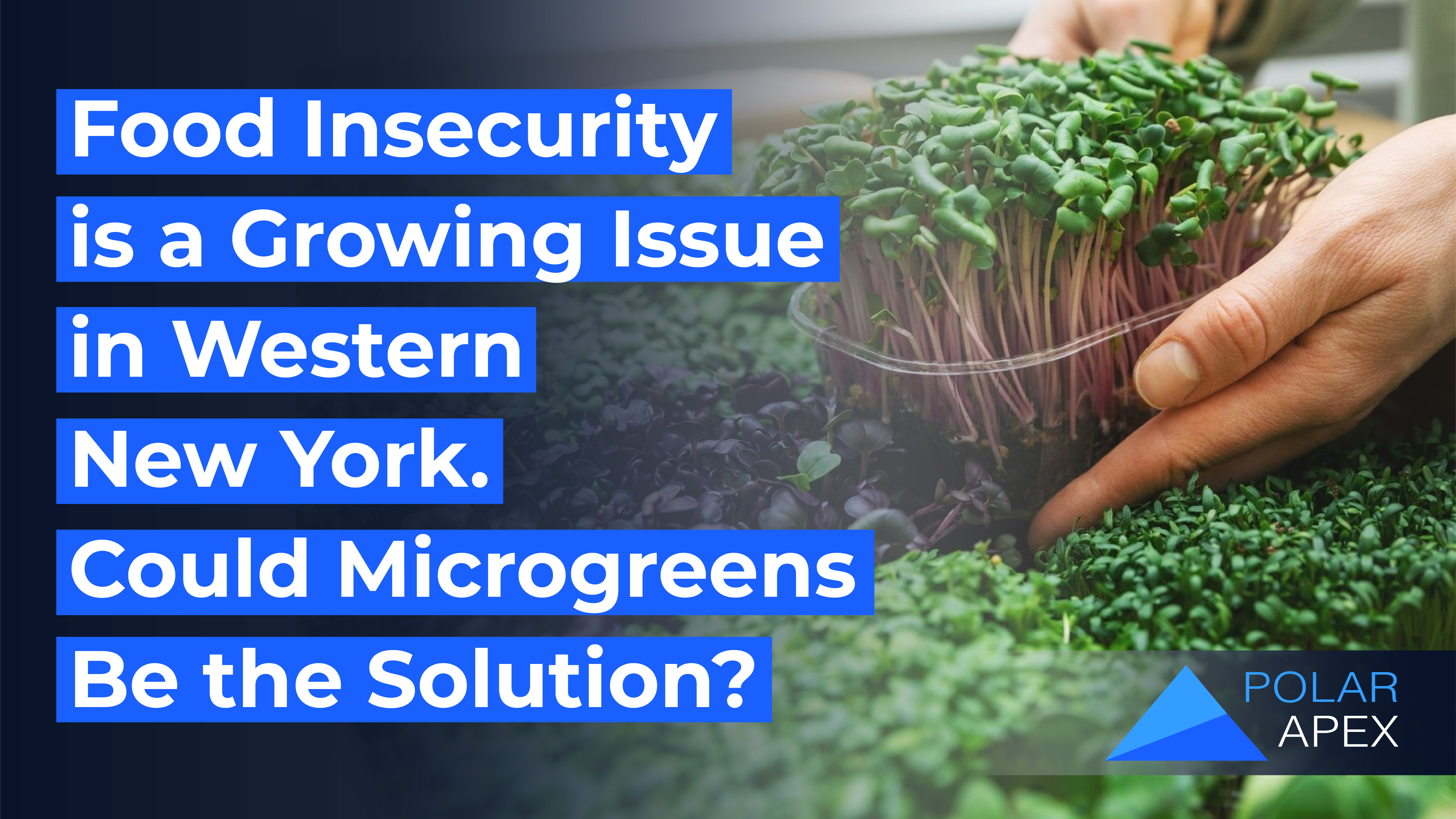 BUFFALO, N.Y. – September 26, 2022 -
In the aftermath of the COVID-19 pandemic, the fragility of the global food supply chain has truly become apparent. What's worse, the effects of the pandemic are still being felt on a national level as food prices skyrocket. Here in Western New York, more people are facing food insecurity as a result.
Within FeedMoreWNY's service area (Cattaraugus, Erie, Chautauqua, and Niagara counties), 180,670 people – 13.4% of the population – are facing food insecurity. Of those people, 63,280 are children, which means 22.2% of the child population is food insecure. If that wasn't bad enough, more than 45% of people live below the poverty line in Buffalo and Erie County; these families will be disproportionately affected by rising food costs, as they already spend over a quarter of their disposable income on food.
But rising food prices are not the only barrier to food security in our region. Many families in Buffalo and Rochester don't have access to vehicles or live within walking distance of a grocery store, forcing them to buy most of their food from local corner stores. This lack of accessible and affordable produce leads to geographic-based health inequities due to a lack of proper nutrition.
Another thing exacerbated by the COVID-19 pandemic was the consumer demand for locally sourced food. Following national trends, a survey done by Food Future WNY in 2021 revealed that 87% of participants ranked sourcing food locally as very important or important. There has also been a rise in the number of people wanting to buy seeds to grow their own food.
Microgreens could offer a convenient solution to all these issues, especially in urban areas such as Buffalo and Rochester, which are often deemed food deserts. Families could grow microgreens on their balcony or patio, or even just in a kitchen window. All a grower needs are seeds, trays, and growth medium, which could consist of soil or growth mats like bamboo, TerraFiber hemp, or coco coir.
"The current COVID-19 pandemic revealed the vulnerability of our food system and the need to address malnutrition issues and nutrition-security inequality, which could be exacerbated by potential future emergencies or catastrophes," said Francesco Di Giola, assistant professor of vegetable crop science at Penn State University. "Nutrient-dense microgreens have great potential as an efficient food-resilience resource."
With a short growth cycle requiring only minimal inputs of fertilizer, microgreens have great potential to provide essential nutrients and antioxidants, Di Gioia notes. Several species of microgreens have a short growth cycle, often just over a week, and offer a plethora of vitamins such as A, C, E, and K, polyphenols, glucosinolates, and omega-3 fatty acids, as well as fibers and minerals. And microgreens don't require much space, allowing them to easily be grown at home or in urban centers.
Di Gioia also proposed the idea of distributing microgreen grow kits that could be manufactured and stored for use when necessary. He described the kit as a simple box that would contain instructions, seeds, and other necessary growth materials. "We have a situation of hunger even in Western countries," he continued. "This kit could be provided to schools or to people in need."
With the help of the government and community, microgreens could be the solution needed to curb food insecurity and malnutrition in Western New York and beyond. If you are interested in being part of the solution and helping curb malnutrition by investing in sustainable agriculture technologies, please reach out to us right away. We would love to have an in-depth discussion with you.
About Polar Apex
Polar Apex is an exclusive VC fund that partners with industry and government leaders to tackle their greatest challenges and opportunities with new ventures.
Disclaimer
Although the material contained in this website was prepared based on information from public and private sources that Polar Apex, LLC believes to be reliable, no representation, warranty or undertaking, stated or implied, is given as to the accuracy of the information contained herein, and Polar Apex, LLC expressly disclaims any liability for the accuracy and completeness of information contained in this article.
This article is distributed for general informational and educational purposes only and is not intended to constitute legal, tax, accounting or investment advice. The information, opinions and views contained herein have not been tailored to the investment objectives of any one individual, are current only as of the date hereof and may be subject to change at any time without prior notice. Polar Ape, LLC does not have any obligation to provide revised opinions in the event of changed circumstances. All investment strategies and investments involve risk of loss. Nothing contained in this article should be construed as investment advice. Any reference to an investment's past or potential performance is not, and should not be construed as, a recommendation or as a guarantee of any specific outcome or profit.
Any ideas or strategies discussed herein should not be undertaken by any individual without prior consultation with a financial professional for the purpose of assessing whether the ideas or strategies that are discussed are suitable to you based on your own personal financial objectives, needs and risk tolerance. Polar Apex, LLC expressly disclaims any liability or loss incurred by any person who acts on the information, ideas or strategies discussed herein.
The information contained herein is not, and shall not constitute an offer to sell, a solicitation of an offer to buy or an offer to purchase any securities, nor should it be deemed to be an offer, or a solicitation of an offer, to purchase or sell any investment product or service.