Why Western New York Should Be Leading the Agri-Tech Revolution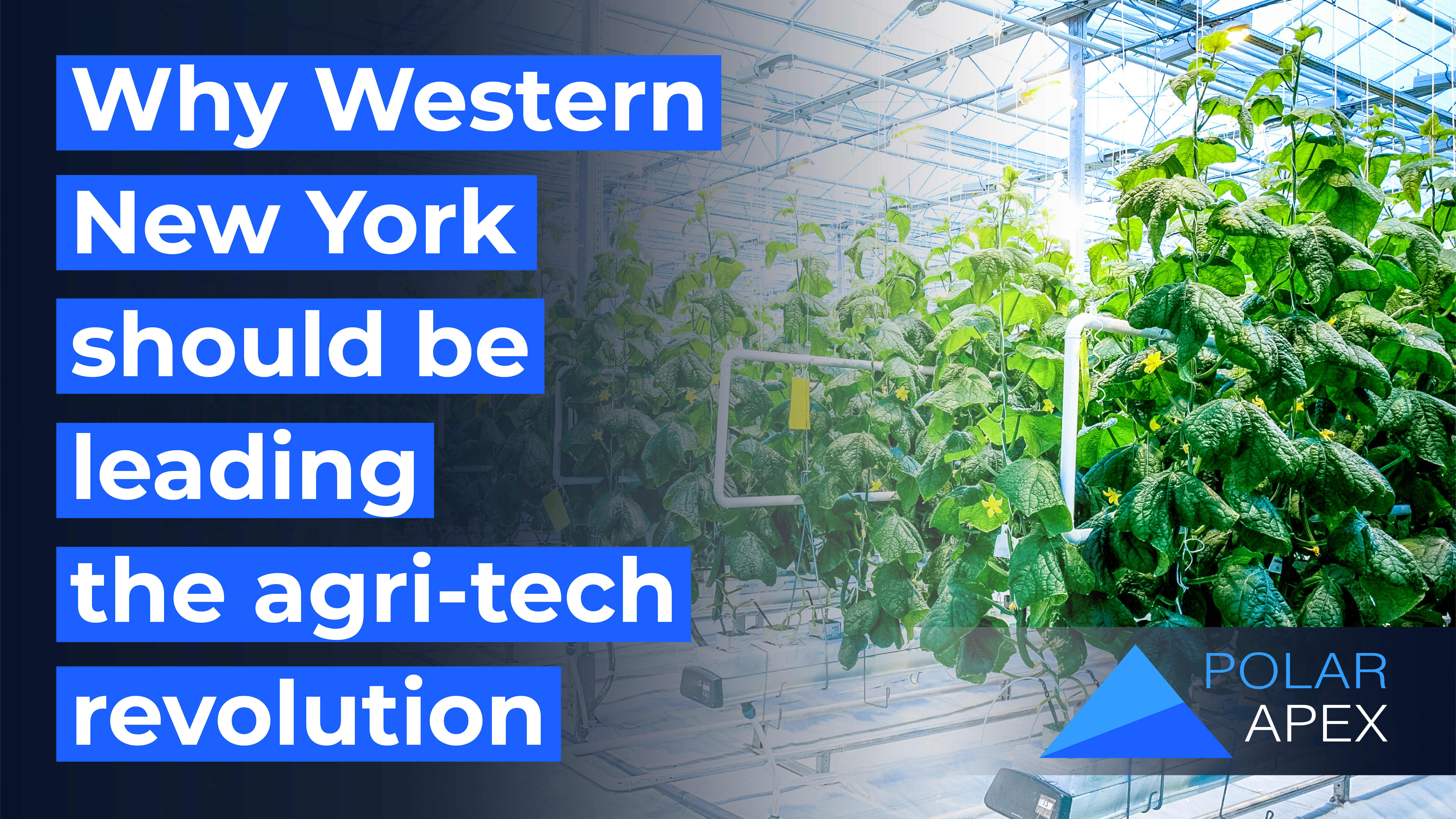 BUFFALO, N.Y. – Sep. 12, 2022 -
Western New York was an economic staple of early America, a place of thriving industry and innovation. It all started when the first trading community was established in Buffalo in 1789, followed by the construction of the Erie Canal in 1825.
The Erie Canal allowed grain to be transported across the Great Lakes to Buffalo, where it was transferred to canal boats and transported 363 miles to Albany. It was then finally loaded onto a ship and traveled down the Hudson River to New York City, where it was exported to Europe. This new transportation route transformed Western New York into the continent's largest grain market by shortening what used to be a 3000-mile journey to just 450 miles.
At Niagara Falls, the world's first large-scale AC power plant began producing electricity in 1895. By 1896, Niagara Falls was producing one-fifth of all electricity in the United States. Mills were constructed in the surrounding area due to the availability of inexpensive hydroelectric power, and Buffalo became the world's largest flour milling center in 1930. Buffalo's industries did not stop there. In 1941, Bethlehem's Lackawanna steel mill became the world's largest steel operation, employing over 20,000 workers.
During the late 19th and early 20th centuries, Buffalo was one of the most populous cities and manufacturing centers in the United States. However, this did not last. The Saint Lawrence Seaway bypassed the need for the Erie Canal, and the end of World War II resulted in a decreased demand for grain and steel. Globalization allowed for cheaper imports of these goods, and suburbanization in the 1950s led to people leaving the city. All of these factors led to the closure of the Lackawanna steel mill and other industries, and Buffalo lost over half of its population between 1950 and 2010.
But for the first time in 70 years, Buffalo and Erie County have seen a resurgence; there's been an increase in population, and for the first time in decades, the region's population is younger than the national average. Now is the perfect time for Buffalo to reclaim its position as the leader in agriculture and manufacturing.
The agricultural industry of today needs a revolution. The global population is expected to reach 9.7 billion by 2050, requiring a 70% increase in food production and a 40% rise in water consumption. But the existing techniques used to feed our population are unsustainable. High crop yields have been attained by increasing land and water consumption and shifting to chemical fertilizers and synthetic pesticides, which erode soil and pollute water. Current farming methods cannot continue to be scaled as they are already wreaking havoc on the environment. The future of agriculture will include new technologies that increase crop yields while using less resources and having a smaller environmental footprint.
Buffalo is perfectly positioned to capitalize on this evolving industry. If we are to avoid future water or food shortages, people and governments must invest time and resources in sustainable agriculture in the coming years. If you are interested in investing in the Agri-tech revolution and helping Buffalo become the industry leader, please contact us right away. We would be delighted to have a more in-depth discussion with you.
About Polar Apex
Polar Apex is an exclusive VC fund that partners with industry and government leaders to tackle their greatest challenges and opportunities with new ventures.
Disclaimer
Although the material contained in this website was prepared based on information from public and private sources that Polar Apex, LLC believes to be reliable, no representation, warranty or undertaking, stated or implied, is given as to the accuracy of the information contained herein, and Polar Apex, LLC expressly disclaims any liability for the accuracy and completeness of information contained in this article.
This article is distributed for general informational and educational purposes only and is not intended to constitute legal, tax, accounting or investment advice. The information, opinions and views contained herein have not been tailored to the investment objectives of any one individual, are current only as of the date hereof and may be subject to change at any time without prior notice. Polar Ape, LLC does not have any obligation to provide revised opinions in the event of changed circumstances. All investment strategies and investments involve risk of loss. Nothing contained in this article should be construed as investment advice. Any reference to an investment's past or potential performance is not, and should not be construed as, a recommendation or as a guarantee of any specific outcome or profit.
Any ideas or strategies discussed herein should not be undertaken by any individual without prior consultation with a financial professional for the purpose of assessing whether the ideas or strategies that are discussed are suitable to you based on your own personal financial objectives, needs and risk tolerance. Polar Apex, LLC expressly disclaims any liability or loss incurred by any person who acts on the information, ideas or strategies discussed herein.
The information contained herein is not, and shall not constitute an offer to sell, a solicitation of an offer to buy or an offer to purchase any securities, nor should it be deemed to be an offer, or a solicitation of an offer, to purchase or sell any investment product or service.